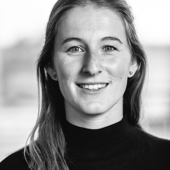 Kaat Van Doren
Head Talent & Culture – Talent & Culture 🫶
As Head of Talent & Culture at ML6, Kaat focuses on accelerating all ML6 Agents by being a trustful Business Partner. Together with the whole HR team, she integrates the five people pillars of ML6 (ML6 DNA, Meaningful work, Other People, Appreciation & Personal Path) in all projects & HR related activities.

Her focus is on personal development & soft HR in combination with HR strategy. Next to this she guides the HR colleagues on Recruitment and Compensation & Benefits. The combination of People and Technology is the asset in her role at ML6. She treasures and admires the people with whom she can collaborate.‍
Kaat is very passionate about people and this started already during her studies in Human Resource Management at AMS. After this she started her career as a recruitment consultant at Hays with a strong focus on IT profiles. Therefore she dares to talk tech and dig deep into her collaboration with ML6 agents.

Have a look at her latest blogposts:
"Doubling down on learning and innovation"